The History of Przysłup Caryński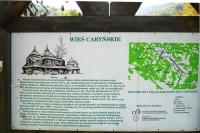 The Caryńskie is the non-existing village, located between the mountain range of Połonina Caryńska and Magura Stuposiańska. The village was lying along the Przysłup Caryński. The first information about the village is from 1620, however it is highly probable that this area had been inhabited by the Boykos, a group of highlanders, earlier. Due to the mountainous location of the village, far from the travelled routes, the inhabitants were living there in some kind of isolation. They had maintained the lifestyle and the traditions, which had been ruled there from years.
The Orthodox church named after Dymitr and dated 1777 was the central point in the village. Up to the beginning of the second Word War there were about 500 inhabitants in the village. After the war many military troops of UPA were living here. In the late April and early May of 1946 year, all the inhabitants were displaced and the whole living and economical infrastructure was totally destroyed.
In the seventies, in the area of the previous village there was functioning the non-formal drug addicted people rehabilitation centre, which was later closed by the local authorities. In those times, the desolated location of Caryńskie encourage many "strange" people to come.
There are many traces after the old village still visible today. The best preserved are the ruins of brick pilgrimage chapel, the sand cross from 1911 and the old cemetery with a few tombstones. The tourists can find also the foundation remains of the old orthodox church.

Apart from the above mentioned items, the tourists can find the foundation of buildings, the old, overgrown by the grass wells and the remains of a mill, however difficult to located.
There are also the characteristic, unnatural clusters of the old trees, which come from home planting (sycamore trees, ash trees ), wild orchards and single fruit trees and also agricultural terraces with bounds and the traces of pre-war roads.
Caryńskie today is a lovely, pictures valley, whose habitats are only bears, wolves, deer and other representatives of the Bieszczady fauna.